Build Your EVENT Series Table
One of the great things about the EVENT SERIES is that they're extremely flexible with measurements and specifications, meaning we can work with you to create the perfect table for your gaming space.
Intended as a fully convertible Gaming/Dining Tables, the Event Series features:
Customisable sizing to create the perfect fit for any Games and Dining Room.
A choice of high quality hardwoods for a gorgeous and durable build.
Singular leaves with the option to include our Hook & Lock system.
Inner card slot atop of the inner wall.
360 degree Attachments rail.
Lots of upgrade options.
The calculator below is a great tool that will give you a good idea for sizing and pricing up your table. You can go with the bare essentials or all out with all of the bells and whistles!
The prices below are more will always be confirmed in follow up emails as the calculator is more for a guide.
Alternatively if you would like to discuss options for custom sizes and builds or just anything in general then please contact us at contact@naturaltwentytables.co.uk and we'll be happy to talk.
Size Guides
While the EVENT Series is a bespoke build, we do have a 'default' build unless asked to change.
The arm rests are a comfortable 110mm deep. Inside of the arm rest is the top of the internal walls which also act as a shelf for the tabletop leaves to rest on when in dining table mode. Altogether the depth is roughly 5 inches deep on each side.
The internal cellar depth is 90mm when the leaves are on the table, plus 30mm for the arm rest depth when the leaves are off the table.
The legs are 26 inch tall and 90mm wide.
The tabletop leaves length equals the cellar width plus 30mm to fit between the arm rest. The width of the leaves varies depending on the length of the table, but are normally made around the 200-230mm range.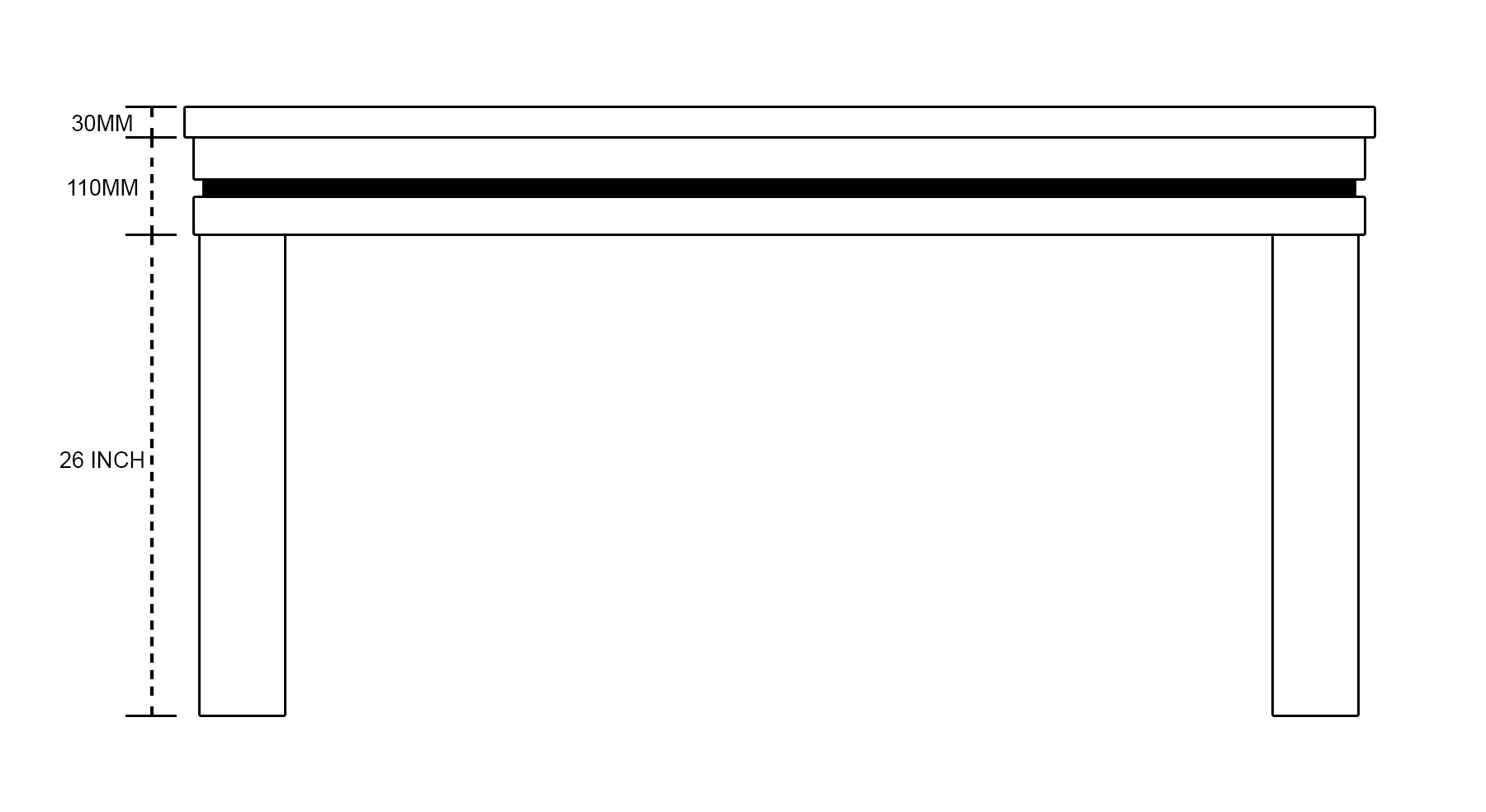 Choice of wood
Using solid hardwoods we're able to create high quality heirloom tables, that look as good as they are durable, creating something that will see many game night sessions for years to come. With a selection of woods to choose from, there's lots of room to create a look that suit your own tastes. All finished (unless painted) with a hardwax finishing oil that gives that "wet look" and a beautiful sheen.
Tulip
A budget friendlier hardwood and a great option for the base and legs to paint if creating a 2-tone build.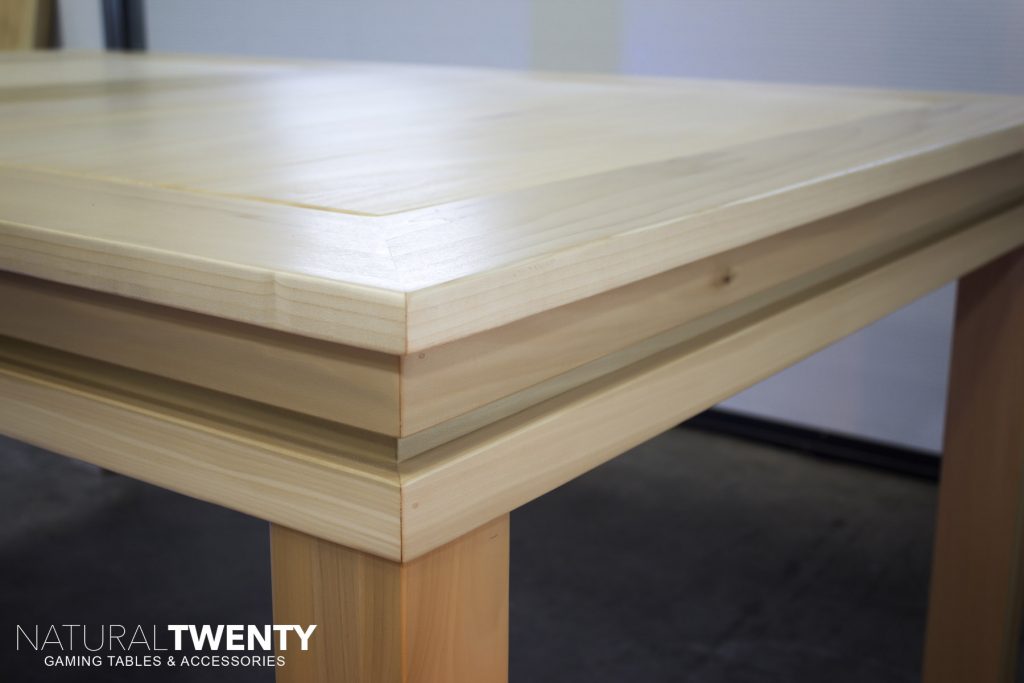 Oak
Solid wood and a beautiful grain and natural colour. Finishes beautifully with several coats of Danish Oil.
Oak - Butchers Block
Solid, chunky and gorgeous. Tough & hard wearing, plus it looks amazing on a table top.
Sapele (dark hardwood)
A darker colour and a finer grain than the other hardwoods. Great if looking for a vintage style finish.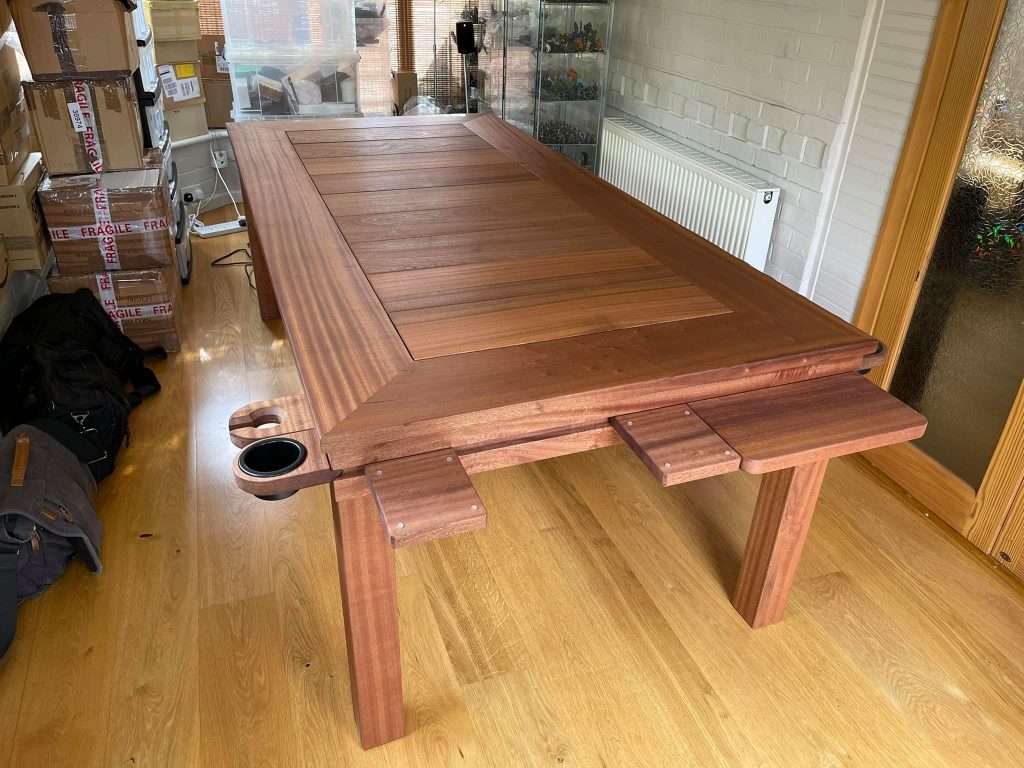 Flooring Options
For the flooring of our tables we offer the option to include a removable neoprene gaming mat from Patriot Games, or a fitted faux-leatherette.
The neoprene gaming mats are a high quality material, soft to the touch and when pressed will pop cards up off of the surface, making it easer to pick up those tricky cards and tokens. The mats are lined underneath with a grippy rubber lining so when inside the table they won't go anywhere. And in case of any unfortunate spills, the mats can be removed and run through a cool wash in a washing machine to bring them back to life.
The faux leatherette is a PVC material, so if waterproof and easy to clean, so these are fitted in place and no removable.
Both options are available in a range of colour options, or with the neoprene mats we can also have these custom printer (logo's, etc).
Stain/Paint Finishing Colours
If going for a "2-tone" look, then the water based wood dyes we use should be perfect for the job. From traditional wood colours for when you want to match up a tulipwood body with a solid oak top, through to a specialist "black black" option for those that like things on the darker side!
For staining we use the indoor products by Little Fairs.
For Painted finishes we recommend using Valspar Paint. With this we use the Trade variant in an eggshell finish which gives a more durable finish and a nice matt/satin sheen. Valspar paints are available at B&Q so are easily accessible, useful for if you ever need more paint to do touch ups in future.
Top Coat Finishing
Unless painted, we always finish our tables with OSMO Hardwax Oil, or more specifically the Polyx-Oil in a Matt finish. This gives a - in our opinion - nicer sheen to the finish than satin or gloss would offer, and is a super durabile top coat to the hardwoods.
As well as the smooth to the touch finish we're left with, other benefits are:
+ Highly resistant to common liquid spillages such as water, juice, tea, cola and wine.
+ Saliva-resistant and sweatproof, suitable for children's toys (EN71.3).
+ Microporous, breathable finish which does not crack, peel, flake or blister.
Choice of Attachments
One of the great things about gaming tables are the use of 'attachments'. These offer useful aids for things such as cup or token holders, card stands, phone and tablet trays and many more to come.